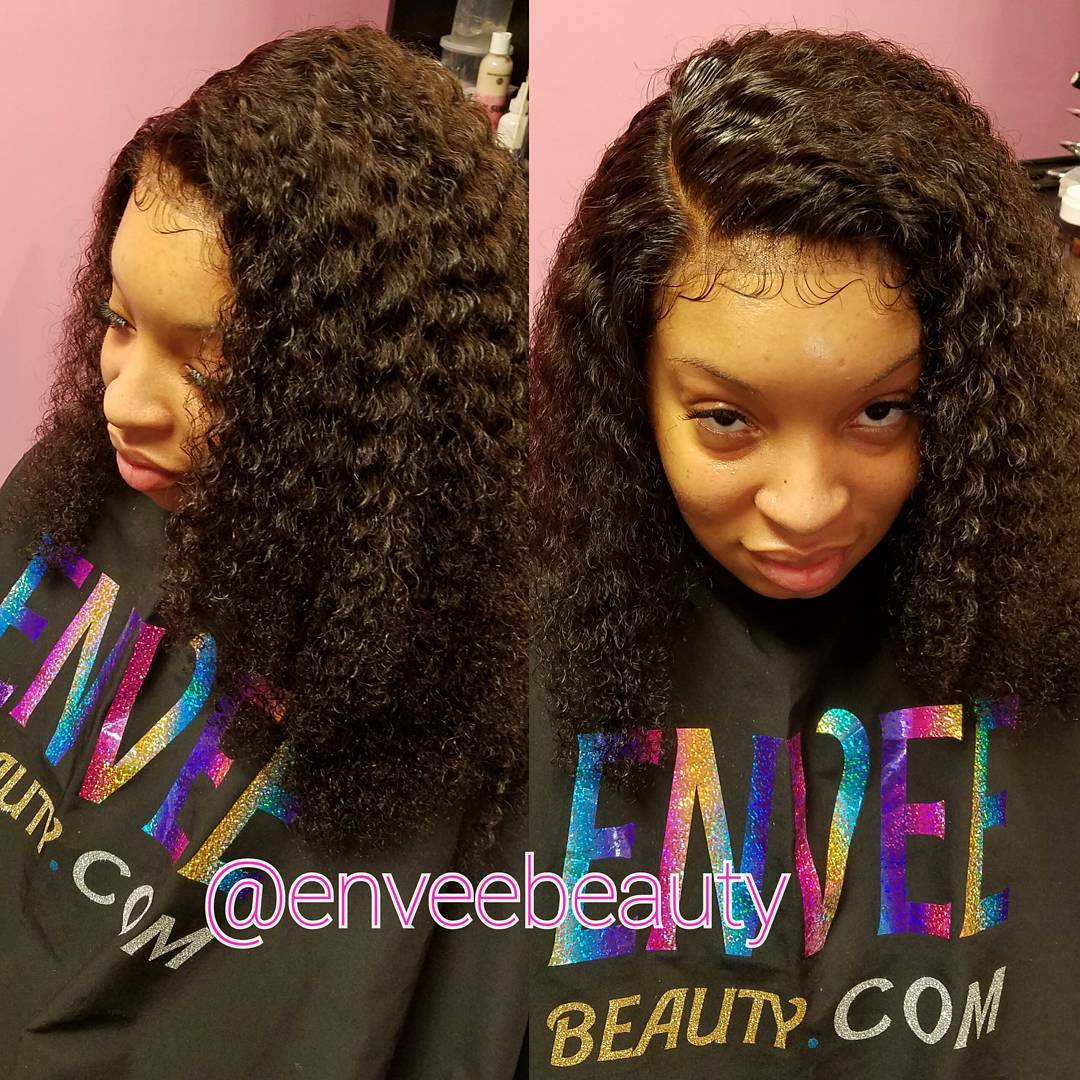 ABOUT OUR HAIR
ENVEE Beauty  is PLEASED TO OFFER BEAUTIFUL VIRGIN AND REMY HUMAN HAIR EXTENSION FOR WEAVING OR BONDING. THIS EXTENSION IS A SILKY STRAIGHT TEXTURE / DIFFERENT CURL PATTERNS AND IS AVAILABLE IN YOUR CHOICE OF COLORS. WITH THE EXCEPTION OF VIRGIN HAIR ONLY COMES IN 1, 1B, 2, AND NUMBER 4.

Remy human hair provides you with the highest quality and begins with selecting only the best raw materials. What this means is only healthy youthful hair is selected. The hair is put through extensive control methods to ensure exceptional quality.

Since the hair is no longer getting nutrients from the body, in order for the hair to stay beautiful wash after wash, the outer layer cuticle of the hair needs to remain intact. The cuticle is the outer protective coating of the hair strand.

Many manufacturers of hair extensions remove this cuticle which allows for mass production of extensions, resulting in poor quality hair. This hair will look good for a few washings, but will then become dry and brittle, lacking shine. It will start to tangle terribly and will no longer be usable.
This is why there is such a variety of hair available at all different price levels… YOU GET WHAT YOU PAY FOR.

Remy hair leaves the cuticle intact so the hair remains protected. Each strand is hand picked, strand by strand to be sure that the cuticle layers are all aligned in the same direction so little to no tangling occurs. Because of the endless efforts to ensure quality, Remy hair will provide shine, luster, fullness, and long life. You will now have the beautiful healthy looking hair that you always wanted!

It seems that most people are unsatisfied with their hair. Either it is too short, too thin or simply un-stylish. Until recently, there weren't a lot of options for 'fixing' your hair. With recent advancements in the beauty industry, the option of adding hair for volume or length has become much more feasible.

We are offering the same products you will find in the salons for a fraction of the cost you will pay to the salons specializing in extensions. We're talking about taking human hair and actually attaching it to your natural hair using several different methods depending on your preference, giving you the results of full natural beautiful hair.

You're probably thinking that it is going to look really fake, or damage my natural hair somehow. But actually, the opposite is true. Hair extensions have come so far that they look totally invisible and natural.

Hair extensions are a great way to get instant longer and/or fuller hair. Celebrities everywhere use hair extensions to get long, full beautiful hair in just a few hours. There are many different affordable and safe methods available today. And the beauty of it is that the hair extensions look completely natural, like it grew out of your head. No one will even be able to tell that you are wearing them if installed properly.

Just remember, there are all different origins, grades and qualities of hair available. This determines the pricing which is why you may see such a range in the costs for extensions when comparing prices.

Thank you,
ENVEE Beauty…